PRODUCT SAFETY ISSUE - SPALDING BASKETBALL PORTABLE SYSTEMS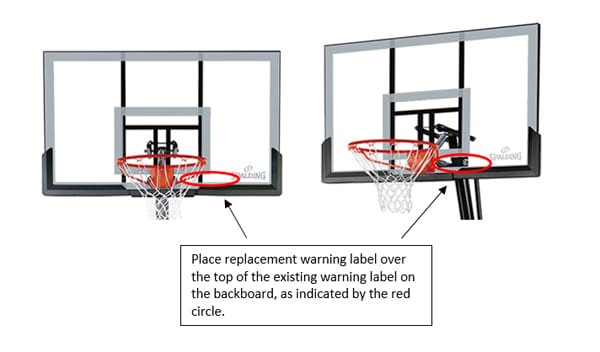 If you purchased one of the below Spalding Basketball Portable systems ('Affected Products') after July 1st 2021, please contact Spalding IMMEDIATELY to receive replacement safety warning stickers to be affixed over the top of the existing labels on the backboard – as per above reference.
AA7A1033 - SPALDING 5BALLER 48IN POLYCARBONATE
AA7A1655 - SPALDING PRO GLIDE 48IN POLYCARBONATE
AA6A1355 - SPALDING EXACTAHEIGHT 50IN ACRYLIC
AA6A1073 - SPALDING FADEAWAY SYSTEM 52IN ACRYLIC
AA5A1006 - SPALDING SPACE JAM 32IN YOUTH - TUNES
AA5A1007 - SPALDING SPACE JAM 32IN YOUTH - SQUAD
AA5A1008 - SPALDING SPACE JAM 32IN YOUTH - JAM
AA5A1058 - SPALDING TELESCOPING 32IN JUNIOR
AA7B1454 - SPALDING THE BEAST 54IN GLASS
AA7B1669 - SPALDING BEAST 60IN GLASS
DEFECT: Safety warning labels for the backboards on Affected Products were erroneously printed with a text size smaller than the 10mm minimum size mandated by the Consumer Goods (Basketball Rings and Backboards) Safety Standard 2017.
HAZARD: Although the backboards of Affected Products already include safety warning labels, there is a potential risk that the text is insufficiently large. If users are not aware of warnings and safety precautions, there is a risk of injury if the product is used in a manner inconsistent with those warnings and safety precautions.
WHAT TO DO: Fill out the following form to receive a replacement warning sticker > Product Recall Form. This sticker should be immediately placed over the existing backboard warning label.
CONTACT DETAILS: Please call our Customer Service team on 1300 654 766 (Monday - Friday from 9am-5pm AEST) or email via [email protected]
See productsafety.gov.au for Australian product recall information
---
Various Spalding Basketball Rims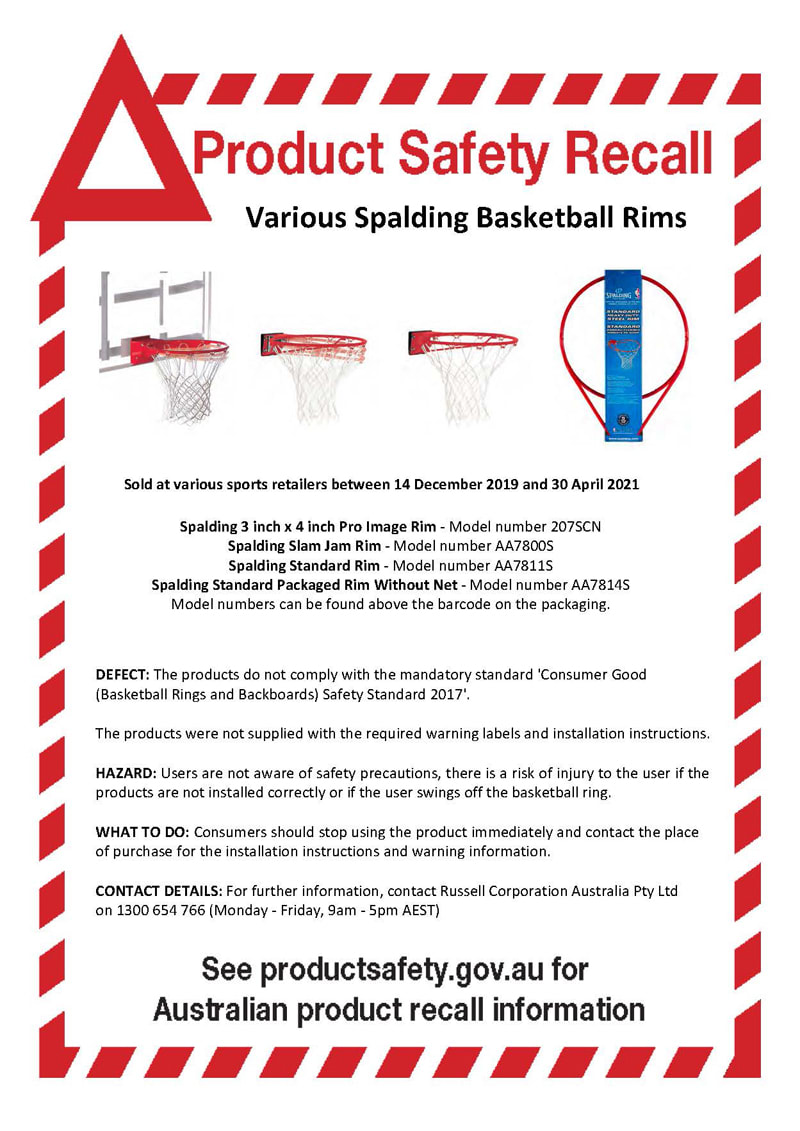 ---
Spalding Punching Bag
Our company was alerted to claims that refuse has been used as filler in a punching bag branded with our company logo, supported by photographic evidence.
This product is licensed to Spartan Sporting Goods and manufactured, sold and distributed by Spartan in Australia.
Given the extremely serious nature of the claims, we have commenced an immediate investigation into this matter.
Consumer safety is paramount to our company. We are appalled at the images, and we are also alarmed that this could have occurred given our rigorous auditing processes and our requirement that all of our licensees adhere to stringent corporate responsibility guidelines and protocols.
While we are yet to sight the product and determine if the punching bag is a genuine licensed product, we are preparing with our licensee, Spartan, to conduct a recall of all punching bags branded with our logo immediately from all retail outlets where they were sold, along with a full consumer recall. We have also instructed our social compliance team and the independent auditor to investigate the allegations as a matter of priority.
Additionally, we have established a consumer hotline 1300 654 766 that consumers can call for further information.
For media inquiries, please contact:
Mary Morton
iD Collective
Phone (03) 8554 4888
Mobile (0418) 369 636
Email

[email protected]
Click here to download a copy of our product recall form
Further Product Information
Is the product dangerous?
There has only been one product found to have refuse contained within it. The refuse was well contained within the bag and was only found two years after purchase, once the bag was split open to restitch it. We have decided to recall all of our Spartan manufactured and distributed boxing punching bags because one faulty product is one too many. Our brand is all about quality and consumer safety is paramount.
How did this happen?
We are currently investigating Spartan who is the company responsible for the manufacture and sale of these products in Australia. Spartan licenses the Spalding brand in Australia for the sale of punching bags. When this breach in quality standards came to our attention, we immediately instructed Spartan to recall all the punching bags from the Australian market.
How will I be able to tell if my product is affected?
We have only ever had one complaint with regard to this product and we have never encountered this type of complaint before. However, we have issued a national recall as we want to ensure that our consumers' safety is paramount. If you own a punching bag that looks like the below image, then your product is included within the recall.
Who is Spartan? I thought I bought a Spalding Product?
Spartan is an Australian company who licenses the Spalding brand in Australia for punching bags. It is responsible for the manufacture and sale of the punching bags in Australia.
When were the products in question on the market?
The punching bags in question were first produced and delivered into stores in 2009 and were last delivered into stores on October 2012. They would have been available for purchase until sold out, the date of which we cannot ascertain. From October 2012, no further punching bags have been produced or distributed for sale in Australia.
What are my options?
Please download the Product Recall Form and submit this with a photo of your product.
You can email this to: [email protected]
Upon receipt of your documentation, you will be issued with a recall ID and instructions for returning your item. Once receipt of your product has been confirmed you will receive a voucher to the retail value of your product.
If you have any further questions or concerns, please call our designated Consumer Hotline – 1300 654 766. However please be aware that we are dealing with a large number of enquiries at this time, so you may be required to leave a message for our Customer Service Team.