Pro-Glide™ 48 Inch Polycarbonate Portable
Shipping from end of October
Pre-Order! Shipping from end of October
Make your driveway the neighbourhood court with the Pro-Glide™ 48 Inch Polycarbonate Portable Basketball System. Designed for ballers of all ages, it's 48" Polycarbonate backboard delivers a good rebound performance ideal for recreational play. With the Pro Glide™ lift system you can adjust the height from 7.5 feet to the league-standard 10 feet with ease, while the 117 litre water fillable base stays firm and stable all-day long.
Polycarbonate Backboard features good rebound performance
Height adjustable from 8ft to 10ft (for players of different ages)
Portable wheeled base (easy to move)
Slam Jam® Breakaway
Assembly time: Approx. 3-4 hours
Backed by Spalding's warranty
48" Shatter-proof Polycarbonate Backboard
Built for a great rebound experience the 48" Shatter-proof Polycarbonate features great rebound performance and is the ideal backboard for competitive play. 
Backboard measures 48" (122x81cm) and features a Steel-Frame
Heavy duty steel frame
The 3pcs, 3" round heavy-duty steel pole is designed for maximum stability and keeps your system in place during vigorous play
Easy height adjustment
The fully adjustable Pro-Glide™ lift system gives players of all ages, heights and skill levels room to play
Slam Jam® Breakaway Rim
The solid Slam Jam® Breakaway Rim gives you the power to sink it with all you've got. This steel rim has a powder coat to protect it from the elements Built for the outdoor game. It's spring-loaded for a smooth break at the front
Sturdy base design & easy transportation
The sturdy portable base can be filled with either sand or 117 litres of water providing maximum stability and the convenient base wheels let you move the system wherever you go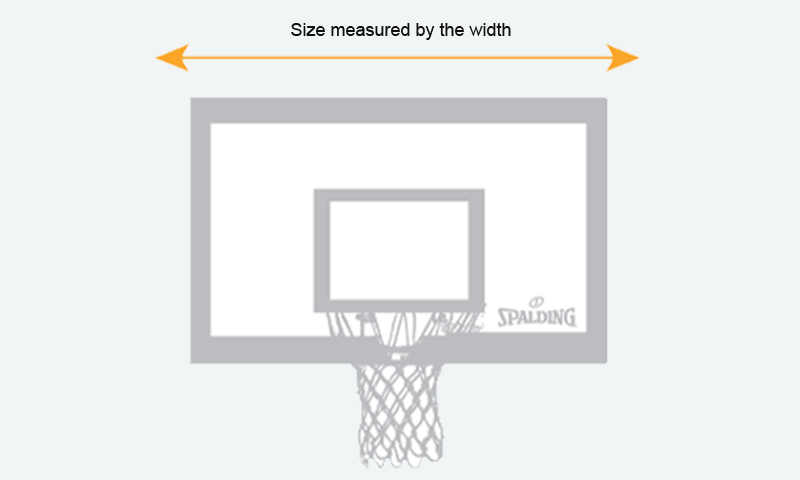 Backboard Size
The backboard size is measured from the left to the right side of the board, ranging from 44" to 72" (107cm to 183cm). Spalding ranges boards in the following sizes:
- 72 inch / 183 centimetres (Professional level)
- 60 inch / 152 centimetres
- 54 inch / 137 centimetres
- 52 inch / 132 centimetres
- 48 inch / 122 centimetres
- 44 inch / 112 centimetres
- 42 inch / 107 centimetres
More Information

| | |
| --- | --- |
| SKU | AA7A1655 |
| System Type | Portable |
| Backboard Size | 48" (122x81cm) |
| Backboard Material | Shatter-Proof Polycarbonate |
| Rim | Slam Jam® Breakaway |
| Lift System | Pro-Glide™ |
| Height Adjustable | 8ft - 10ft | 2.43m – 3.00m |
| Pole | 3 pc, 3" Round |
| Base | Mobile, fills with sand or water, 117 litre capacity |
| Base Dimensions | 114cm x 73cm |
| Assembly time | Approx. 3-4 hours |
INSTALLATION ASSISTANCE
If you need assistance installing your new Spalding Basketball System or would prefer a professional to do this for you then we recommend using our Official 3rd party supplier - Diverse Group.
Please note: Assembly charges and a call-out fee apply.
DIVERSE GROUP
Service type: Portable System Installation (only)
Service Area: Australia - All States
Tel No:
1300 076 789
---
Product Usage Guidelines
This equipment is intended for home recreational use only and NOT excessive competitive play. This product is not intended for institutional or commercial use; Spalding does not assume any liability for such use. Institutional or commercial use will void the warranty.
---
Safety Instructions
Failure to follow these safety instructions may result in serious injury or property damage and will void the warranty.
The owner must ensure that all players know and follow these rules for the safe operation of the system. To ensure safety, do not attempt to assemble this system without following the instructions carefully.  Check entire box and inside all packing material for parts and/or additional instruction material. Before beginning assembly, read the instructions and identify parts using the hardware identifier and parts list in this document. proper and complete assembly, use, and supervision are essential for proper operation and to reduce the risk of accident or injury. A high probability of serious injury exists if this system is not installed, maintained, and operated properly.
---
User Manual
Download the user manual for the 48 Inch polycarbonate system.
User manual
There are currently no reviews for this product.